Please remember to donate to the Barcomb Memorial Funds at any First Chatham Bank
As you can imagine, with so many children, the family struggled financially. Unfortunately, there is very little life insurance available to the family and Debbie will now have to support the family on a school teacher's salary.
In an effort to help the family through this very, very difficult time, CGSA has set up two separate funds. One – The Pat Barcomb Family Fund - will raise money to help offset general family expenses. The second – The Pat Barcomb Children's Soccer Fund – will raise money to help offset the cost of the hotel, meals and soccer equipment so that the kids can continue to play select soccer.
Please consider donating to one or both of the funds. The family is in great need and we want to help as much as we can. It is also very important that the kids be able to continue with their lives as close to normal as possible. Select soccer was a huge part of their lives. Donations can be made through any First Chatham Bank location.
At the request of the family, Pat was buried in his CGSA coaching uniform.
Read Obituary and sign guest book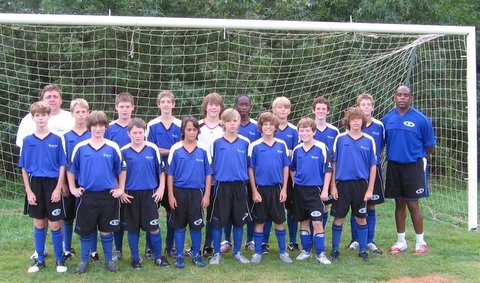 Coach Pat top left